Plovers and geese
What I've been up to
I've been up to Manchester to see some friends. It's a beautiful town, and I'm seriously thinking about moving there. Do any of you have experiences to share?
I did promise that Gentle Readers would have a video version when it reached this level of financial backing (and by the way, thank you all). I didn 't expect it to reach that level while I was away from facilities to make it! I'm hoping to have the next edition in video for you.
I've also started work on a new animated short, The Mouse Made Maiden. I'll show you more when there's more to show.
A poem
I wrote this at the request of Kathryn Rose, as the lyrics for a choral anthem.
I walked in darkness. Many a lonely mile,
my eyes and footsteps hesitant and blind.
I sought a kindly light I did not find
in land or ocean, asking all the while
if lightless lives are taken in exchange
for light eternal. Still the shades of sight
would whisper, "Even I shall see the light!"
I never thought the light would look so strange.
Not in a temple, echoing and awed,
nor in a palace, glistening and grand,
nor in my home, nor any friendly land.
but distant, dirty, in a shed abroad,
I met a maiden bloody from a birth
and in her arms, the light of all the earth.
A picture
A friend told me he'd pulled a muscle the night before, so I drew a cartoon to cheer him up. (In British slang, "to pull" someone means to persuade them to go home to bed with you.)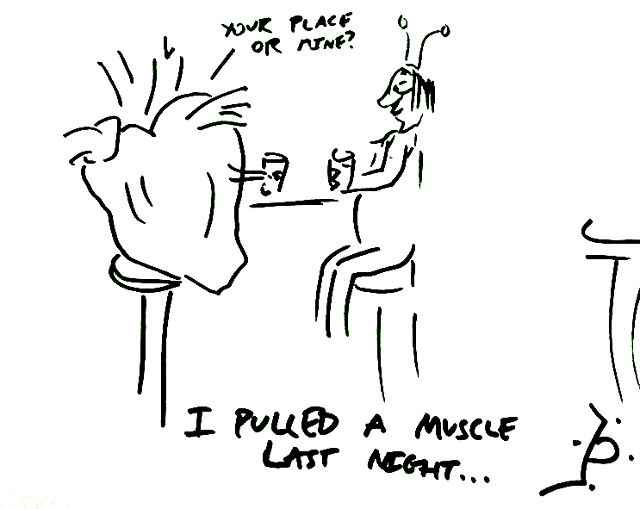 Something wonderful Another poem
Bathos, a sudden and incongruous change of mood, is probably the funniest thing there is. If you do it well, the audience will laugh with you; if you do it accidentally, they'll laugh at you. Robert Southey, an early nineteenth-century poet laureate, shows us how it's done in the last two lines of this poem.
If thou didst feed on western plains of yore,
or waddle wide with flat and flabby feet
over some Cambrian mountain's plashy moor,
or find in farmer's yard a safe retreat
from gipsy thieves, and foxes sly and fleet;
if thy grey quills, by lawyer guided, trace
deeds big with ruin to some wretched race,
or love-sick poet's sonnet, sad and sweet,
wailing the rigour of his lady fair;
or if, the drudge of housemaid's daily toil,
cobwebs and dust thy pinions white besoil,
departed goose! I neither know nor care.
But this I know, that thou wert very fine
seasoned with sage and onions, and port wine.
"Cambrian" means Welsh. Note also the casual racism in the fifth line, unremarkable in Southey's time, and be glad we notice it now.