gold is for the mistress
What I've been up to
Forgive, if you will, the brevity of today's Gentle Readers. I am in the midst of tidying the place we're leaving, and putting things into bags and boxes ready for the move. And though it's a small two-bedroom flat, it contains upwards of four thousand books, so the operation is taking most of my attention and energy. (Also, it caused some talk when I went into Sainsbury's and bought forty bags-for-life.)
I also apologise for the state of the website. We finish moving in on Tuesday (at least, I sincerely hope we do), and then I will have time to fix it. Video versions of Gentle Readers will also resume thereafter.
I have been reading Jeremy Taylor's Rules and Exercises of Holy Living, a sort of self-help book from 1650. Taylor talks about many of the same sorts of things as modern self-help books, including how to organise your time and how not to get distracted. In the section on time management he mentions that it's important to do something fun every day, because it refreshes your mind; he goes on to say that a good example of this is that St John the Apostle spent time each day with a tame partridge. This surprised me.
Gentle reader Amy Robinson requested a picture of St John spending quality time with his partridge, and I am happy to oblige: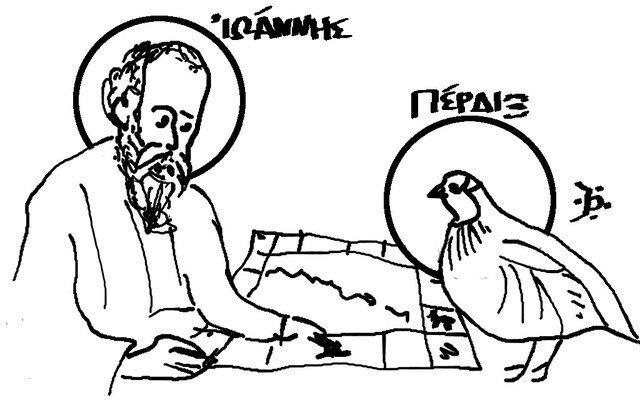 A poem
One of the interesting things about being a writer is that you find people talking about and using your work in ways you'd never considered. A few years after I wrote the poem below, I happened upon the website for a translation competition at a Russian university; the students had been set some texts by German writers whose names I didn't recognise, and James Thurber, and my poem. I love getting surprises like that.
Ah, would I were a German!
I'd trouble my translator
With nouns the size of Hamburg
And leave the verb till later.

And if I were a Welshman
My work would thwart translation
With ninety novel plurals
In strict alliteration.

And would I were Chinese!
I'd throw them off their course
With twelve unusual symbols
All homophones of "horse".

But as it is, I'm English:
And I'm the one in hell
By writing in a language
Impossible to spell.
A picture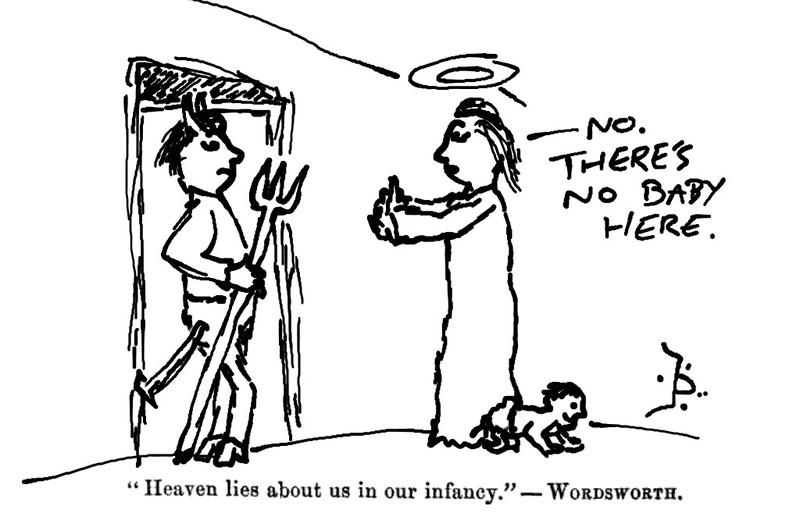 "Heaven lies about us in our infancy" — Wordsworth
"Heaven lies about us in our infancy" -- Wordsworth
A poem
This is about as subtle as a cannonball, but Kipling knew his trade, and it still holds the beauty and jingle of a nursery rhyme. As with all the poems in Puck of Pook's Hill and Rewards and Fairies, it's attached to a story about Dan and Una in the original book; this story for this one is also called "Cold Iron", but unlike the poem, it concerns the iron taboo.
"Gold is for the mistress — silver for the maid!
Copper for the craftsman cunning at his trade."
"Good!" said the Baron, sitting in his hall,
"But Iron — Cold Iron — is master of them all!"

So he made rebellion 'gainst the King his liege,
Camped before his citadel and summoned it to siege.
"Nay!" said the cannoneer on the castle wall,
"But Iron — Cold Iron — shall be master of you all!"

Woe for the Baron and his knights so strong,
When the cruel cannon-balls laid 'em all along!
He was taken prisoner, he was cast in thrall,
And Iron — Cold Iron — was master of it all!

Yet his King spake kindly (ah, how kind a lord!)
"What if I release thee now, and give thee back thy sword?"
"Nay!" said the Baron, "mock not at my fall,
For Iron — Cold Iron — is master of men all."

"Tears are for the craven, prayers are for the clown —
Halters for the silly neck that cannot keep a crown.
As my loss is grievous, so my hope is small,
For Iron — Cold Iron — must be master of men all!"

Yet his King made answer (few such kings there be!)
"Here is Bread and here is Wine — sit and sup with me.
Eat and drink in Mary's name, the whiles I do recall
How Iron — Cold Iron — can be master of men all!"

He took the Wine and blessed It; He blessed and brake the Bread
With His own Hands He served Them, and presently He said:
"Look! These Hands they pierced with nails outside My city wall
Show Iron — Cold Iron — to be master of men all!

"Wounds are for the desperate, blows are for the strong,
Balm and oil for weary hearts all cut and bruised with wrong.
I forgive thy treason — I redeem thy fall —
For Iron — Cold Iron — must be master of men all!"

"Crowns are for the valiant — sceptres for the bold!
Thrones and powers for mighty men who dare to take and hold."
"Nay!" said the Baron, kneeling in his hall,
"But Iron — Cold Iron — is master of man all!
Iron out of Calvary is master of men all!"