Give a Victorian a pipe...
What I've been up to
I'm in the environs of Manchester, partly for Kit's mother's birthday-- which is why today's issue is slightly early-- but also because Kit and I are looking for a flat to rent in Salford. Manchester reminds me a bit of Pittsburgh: it's a lovely town with a lot going on, but everyone who doesn't live there seems to say it's a dark and smoky hole. Salford is a city just outside Manchester proper; it's the original Dirty Old Town from the song of that name, and many of L.S. Lowry's pictures show the city.
Our cat, Yantantessera, is here with us. She didn't enjoy the car journey at all: she complained most of the way that cars are dangerous to cats, cars kill cats, and here she was inside a car, driving on a road with many other cars, and did I have no sense at all? She 's settled down now we've arrived, though, and not disappeared under a bed in protest. (I suppose she has every reason to disappear, since (while she's here) she's a Cheshire cat. Do you want to hear more about 'Tessera?
Gentle reader Mair reports another recipe for iced coffee: "At work (I work in a café) we keep all the leftover coffee, let it go cold, put two scoops of ice-cream into a glass and add the cold coffee, some milk optional, whipped cream and a macaroon on the top, and we call that iced coffee. " I'm looking forward to trying this. Any more?
Gentle reader Carolyn Ramsay brings two cookbooks to my attention, one vegetarian and one for those on limited budgets, and both freely copyable under Creative Commons. I thought many of you would like to see them as well.
A poem

A dozen years, the length of feline days:
compared to human lives it may appear
the cats lose out. To be a human pays.
I think on this, and on companions dear:
Successive cats whose whiskered lives touched mine
Have lain upon my lap... do you suppose
Their tiptoe through the years is but a sign?
I measure out my life with kitten toes.

As they and I pursue the hilly ways
that fill our lives, "Beware! The end is near!"
"Your death is nigh!" or some such friendly phrase
will tell me that it's all downhill from here.
And soon the slope more steeply will incline,
And drop away as quickly as it rose.
You trace the arc? My life is on the line:
I measure out my life with kitten toes.

Though now, my cat, we feel the sunshine's blaze...
your windowsill is warm, the skies are clear...
yet still I feel the sun's all-seeing gaze
remind me of the coming day, I fear...
the coming day I cannot feel it shine,
and on my face the smiling daisy grows.
I only have the one, where you have nine:
I measure out my life with kitten toes.

Prince, lord of cats, may endless meat be thine!
O grant that thine immortal princely doze
may evermore upon my lap recline!
I measure out my life with kitten toes.

A picture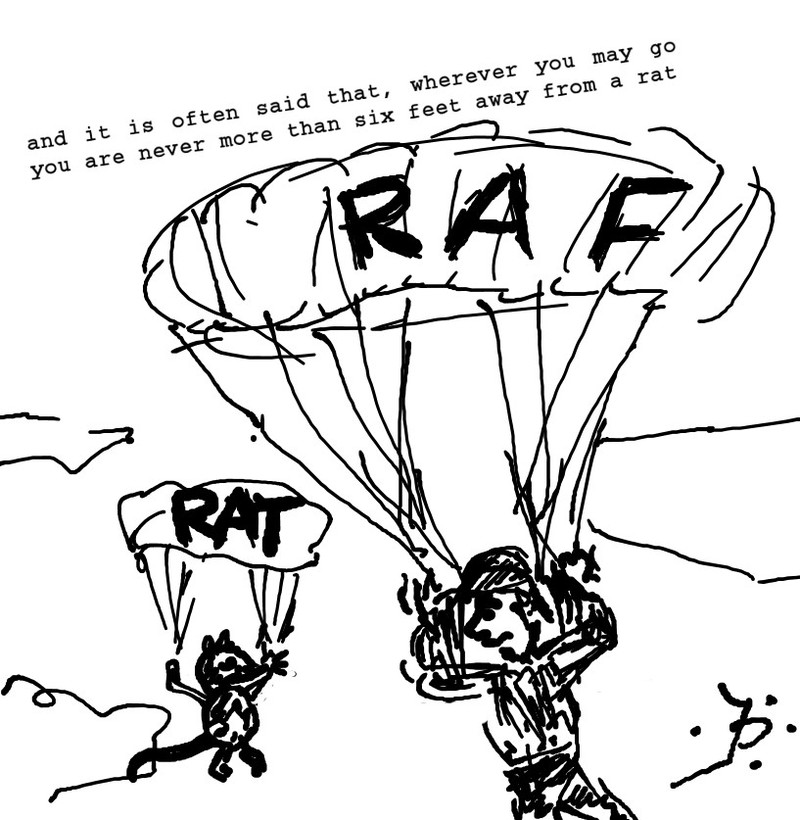 *"And it is often said that, wherever you may go, you are never more than six feet away from a rat"
Something wonderful
The Victorian engineers who built our railways and canals left their mark all over the landscape. But the Victorian engineers who built our sewers left their handiwork mostly underground and unappreciated. The sewers of London, as with many other cities with nineteenth-century sewers, are triumphs of careful planning and hard work, saving us daily from diarrhoea and cholera epidemics. But of course they're like the drummer in a band: nobody notices them unless they go wrong.
One of the Victorian sewer engineers who should be more famous is the wonderfully-named Sir Joseph Bazalgette (1819-1891). As chairman of the Metropolitan Board of Works, he redesigned and rebuilt London's sewers, built embankments along the Thames, and thus helped the river begin to run clean again. One of his particularly interesting habits was designing sewage plants in architecturally-interesting ways, such as the Abbey Mills "A" building, which has often been described as "the cathedral of sewage". I mean, just look at it. Several more photos are here, including pictures of the inside.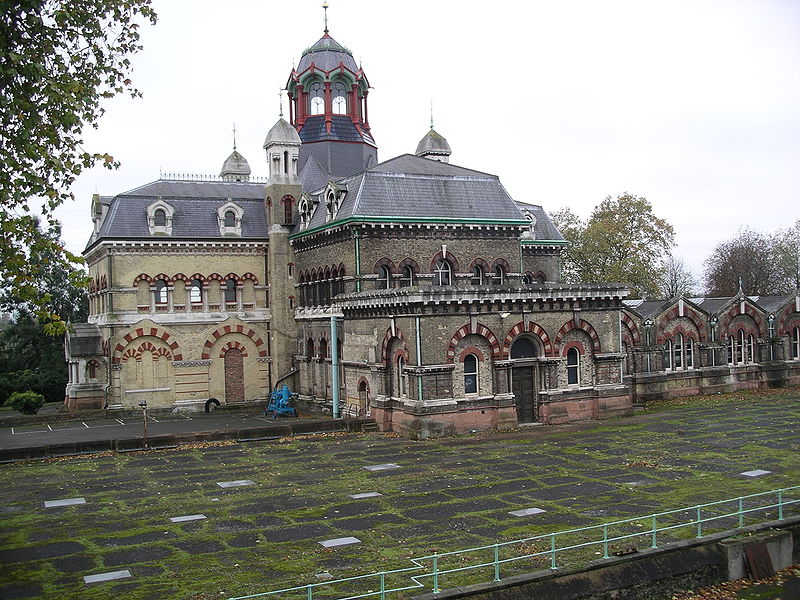 Image by Velela, copyright 2005, cc-by-sa
Thanks to people like Bazalgette, we have pretty good toilet facilities in England, and mostly we don't need to think about how life would be if we didn't. But nearly half the people in the world aren't as lucky, and people die as a result: diarrhoea kills two million children under five every year.
So there is an organisation called Toilet Twinning. You donate some money for building toilets in developing countries, and they twin your toilet over here with one of their toilets over there. Then they send you a photo of the toilet they've built, and you're supposed to frame it and hang it up in your loo. And (more importantly) you get to know that some kids are more likely to make it to their fifth birthday.
Look at me, writing this entire article about toilets but not taking the excuse to make puns. I tell you, I'm flushed with success.
Another poem

Give a man a horse he can ride,
Give a man a boat he can sail;
And his rank and wealth, his strength and health,
On sea nor shore shall fail.

Give a man a pipe he can smoke,
Give a man a book he can read:
And his home is bright with a calm delight,
Though the room be poor indeed.

Give a man a girl he can love,
As I, O my love, love thee;
And his heart is great with the pulse of Fate,
At home, on land, on sea.
James Thomson was another Victorian; I assume he didn't think these gifts were confined to male people. At least, I hope not.