faster than fairies
What I've been up to
Still mostly tidying the house, preparing to move up to Salford. If all goes well, we'll be moving in a week today. Things haven't shown as much sign of going well as I'd like, though: a number of mishaps, ranging from the serious (someone driving into the back of our car) to the ridiculous (trying to pick up a beanbag when the fabric dissolved in my hands, and the floor filled with a million polystyrene beads) have made me wonder whether I'm actually a character in a sitcom.
I mentioned this to my brother Andrew, who said, "And have you noticed that when you sit down to dinner, people only sit on three sides of the table?" And he's right! I'm just hoping I won't close my eyes and see those ominous words...
" You have been watching..."
I was very glad to hear that the Church of England will now be consecrating women bishops, and not only because it caused me to imagine The Bishop of Dibley. (You see, I can't get away from sitcoms.) And I doodled a twelve-second film about a hungry skyscraper, though I'm not really sure why. I think I just needed the distraction.
Other than that, I've been setting up a Twitter account for Gentle Readers: @gentlereaders. Do follow it if you're on Twitter-- and, as ever, tell your friends. **
A poem

I watched from Farringdon as Satan fell;
I've battled for my soul at Leicester Square;
I've laid a ghost with Oystercard and bell;
I've tracked the wolf of Wembley to his lair;
I've drawn Heathrow's enchantment in rotation;
at Bank I played the devil for his fare;
I laugh at lesser modes of transportation.
I change at Aldgate East because it's there.

The Waterloo and City cast its spell;
I watched it slip away, and could not care,
the Northern Line descending into hell
until King's Cross was more than I could bear;
he left me there in fear for my salvation,
a Mansion House in heaven to prepare:
so why return to any lesser station?
I change at Aldgate East because it's there.

Three days beneath the earth in stench and smell
I lay, and let the enemy beware:
I learned the truth of tales the children tell:
an Angel plucked me homeward by the hair,
to glory from the depths of condemnation,
to where I started long ago from where
I missed my stop through long procrastination.
I change at Aldgate East because it's there.

Prince of the buskers, sing your new creation:
the change you ask is more than I can spare;
a change of spirit, soul, imagination.
I change at Aldgate East because it's there.

A picture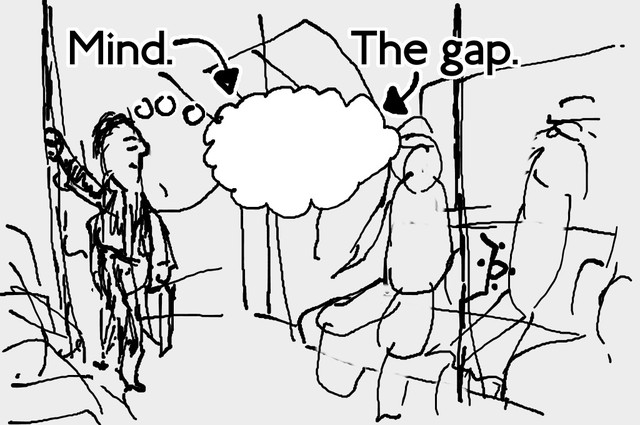 Something wonderful
Harry Beck (1902-1974) worked for London Transport as an electrical engineer. His great idea was born, as all great ideas are, by looking at something familiar and seeing it anew in terms of something quite different.
One day in 1931, he sketched the tube map as if it were an electrical circuit diagram: the map he drew showed the order of stations, and the connections between them, but not their geographical positions, nor the length of the lines between them, nor the physical routes they took. Nowadays, we would call this a topological map, but although topology had been well-studied by mathematicians back then, this sort of practical use was new and nameless.
Unsurprisingly, Beck's bosses were sceptical. After all, it was an untested skunkworks project by someone without expertise in mapmaking. Nevertheless, he persuaded them to give the design a try. It proved so popular that it has been used in London ever since, as well as copied by countless other railway networks around the world.
In this way, Beck made daily life slightly easier for millions of commuters over nearly a century. Most of them have never heard his name.
Another poem
@@@ This is an old favourite. Like the best poetry, it evokes memories in everyone, similar but each different; like the best poetry, the sound of it is half the joy. Don't just sit there: read it aloud!